Agent Referral - Referring An Owner
Let us be your Resource in Property Management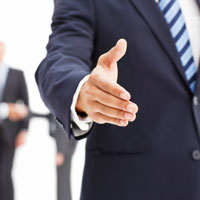 Complete the form to the right or fill out the: ORPM Owner Referral Form, and fax or scan/email to our office. If you would like to download our brochure to send to your client download it here: ORPM Brochure. Call 407-641-5049 or 407-641-5782 with any questions.
To refer a rental owner to Orlando Realty & Property Management please review the following and submit information requested. We will contact the owner within a few business hours.
You, the referring agent will receive a referral fee no higher than 25% of a month's rent when ORPM both locates a tenant and manages the property -or- the referring agent will receive a referral fee of 10% of a month's rent for a property that ORPM just locates a tenant and owner manages. Please note: Owner checks are cut on the 11th of each month (unless a Saturday, Sunday or Holiday). Referral fee checks are cut within a few days of owner checks. This referral fee will mailed to the broker no later than 35 days after the lease commencement.
If the Owner negotiates a reduced commission lower than the ORPM traditional commission, the referral fee will be lowered by that exact amount (i.e. if the monthly fee is reduced from 10% to 9.5% the referral fee will be reduced .5%% for 11 months or 5.5%).
When the above owner attempts to sell this property in the future, ORPM will give back this owner to the above agent without a referral fee and ORPM will not attempt to sell this property (ORPM does market to ALL of our clients in an attempt for them to send us additional owners and/or renters. A referral fee will not be paid to above agent if the above owner refers any additional owners and/or renters.).
If the above property is for sale at anytime while ORPM lists this property for rent, the property will be removed from the for sale market once a qualified tenant has been located and then during the first 9 months of the lease.
After ORPM has contacted your referral and discussed services with the rental owner, we will contact you the referring agent and inform you whether we are just leasing or leasing and managing the property and the exact referral fee %.
Make a Referral